You've fretted, planned, and fretted some more and now the big day is finally here: soon-to-be-momma is in labor! Between you and a pile of happy, healthy puppies lies several hours of anxiety –
Is everything progressing smoothly? 
Is that discharge normal? 
Is she pushing? 
Has it been too long? 
Are the puppies ok? 
Does she need to go to the vet? 
Is it still ok to wait? 
10 more minutes? 
5 more minutes?
To help you answer these questions, I've made this handy flowchart! Start in the upper left hand corner and follow the chart as the questions direct you. If you end up in the "stop sign," it's time to get momma checked by a vet!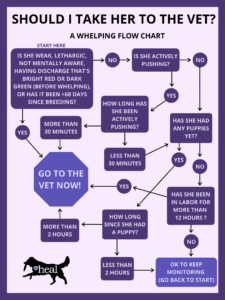 Note that this flow chart prompts you to seek medical assistance if it's been more than 2 hours between puppies. This is based on VERY RECENT research from Cornell University (as in, hot off the press published in 2019 recent). Their study evaluated whelping data from 2,489 litters and found that there is a significant increase in the percentage of stillborn puppies when the time period between puppies increased beyond 2 hours. Therefore, I've chosen to adjust my recommendation to only waiting 2 hours (as opposed to the previously-recommended 4 hours), because I want as many puppies to be born alive as possible. 
It is important to note, however, than when the timeframe was greater than 4 hours, 63.5% of pups were still born alive, so the decision to seek medical assistance prior to 4 hours must be based on your individual goals. I tend to take the "better safe than sorry" approach, so adjust your approach accordingly!  
To clarify – the 2 vs. 4 hour discussion is ONLY if momma is resting comfortably and NOT PUSHING. See the flow chart. 
I hope you find this helpful! Please share with your friends, regardless of whether they are responsible breeders looking to maximize litter health or they've landed with a pregnant foster dog and they're just trying to get through the night! 
Let me know if you have any questions and I'd love to hear your stories of whelping success! 
Want to get more content like this delivered to your inbox? Sign up for my email newsletter here!